LEGACY IS YOUR COMMUNITY'S SOLUTION TO E-WASTE!
Many citizens look to their local municipalities for a solution to dispose of their electronics properly. Legacy as a registered collector of electronics with the WDNR will be able to solve this problem for you with little effort and no cost to the municipality. Legacy is proud to work with local, state, and federal officials. Whether it's a small electronics drop off area at your local recycling center, full-scale collection events, or something in between, we will work with you to develop a custom solution for your resident's needs.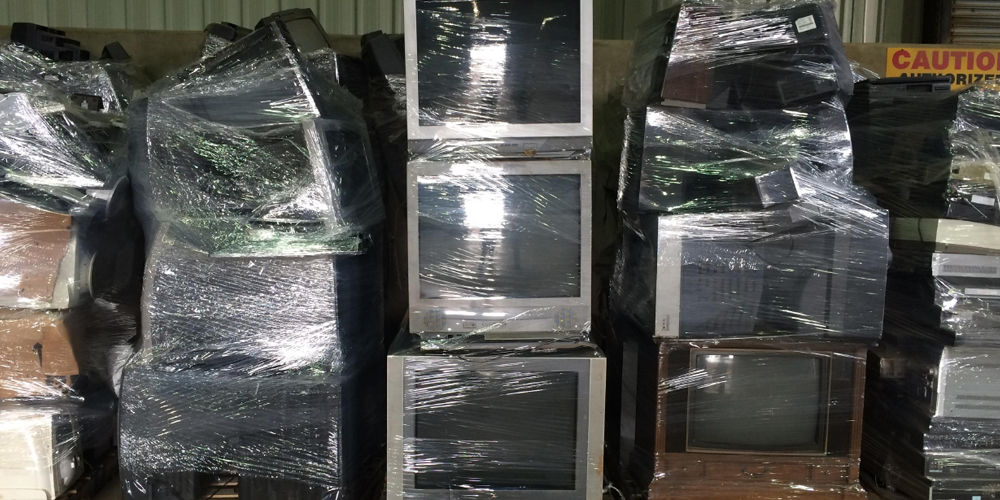 What Are The Benefits For You?
Less Landfill Space – Will reduce waste going into the local landfills and conserve land.
Protecting Surroundings – Recycling electronics ensures that chemicals such as mercury and lead are not leaking and contaminating the soil from landfills.
Conserving Natural Resources – Valuable materials from electronics can be recovered and refurbished. By conserving natural resources, your municipality contributes to saving energy and minimizing pollution.
Residents depend on you to help them keep their homes and their neighborhoods clean and free of waste. Helping to keep your public spaces clean.
Recycling Brings a Community Together.
Save Money – Reduction in disposal costs paid at the landfill.
It helps to boost recycling rates and the recycling industry.
Why Choose Legacy Recycling?
Specializes in responsibly handling and recycling any and all electronics.
We come prepared and take care of all the logistics needed to make your event run efficiently and smoothly.
Whether it's a single box truck or multiple semi loads of recyclables, we can handle any amount.
Offer complimentary DOD hard drive erasing on all computers, laptops and servers dropped off.
We handle the layout of the event and determine the best flow.
We make it effortless for your residents and remove all items from their vehicles. They can just stay relaxed in their cars.
Run events in any type of weather.
Legacy makes it simple and easy for both you and your residents. We take care of it all!
Working only with R2/ISO certified refineries.
Being a WDNR Registered Recycler of Electronics.
Strict no-landfill policy.
We maintain 3,000,000 dollar liability protection.
For residents, please call Legacy Recycling or visit your local municipality website to view upcoming electronic recycling events in your area!
Incredible service!
"From the planning phase to the actual recycling event all the way through cleanup — Legacy Recycling does it all! Legacy's staff always have the "we can do that" attitude — and they are good on their word! Also, I have the confidence in Legacy Recycling that everything collected is being properly recycled. Because of the professionalism shown, positive attitude, and a very strong work ethic, I would highly recommend Legacy Recycling to anyone interested in properly recycling their e-scrape."
Thank you!
Thank you to all the communities and groups that hosted a recycling event with us. See you again soon!
Legacy Recycling takes the work out of scraping electronics and other misc. metal. They are fast, friendly and most important they are affordable. Sometimes they even pay you for your scrap. Dealing with Legacy is always a pleasure.
Legacy Recycling continue to provide great customer service! No complaints from our end. It is good to have folks we can rely on. We will be scheduling another pickup soon. It's easy to do business with Legacy Recycling and their team.